high quality high tensile hot dip galvanized sheep wire mesh fence/ field fence / deer fence Anping factory supply
Also called hinge joint fence, farm fence, farmland fence, horse fence, cattle fence, sheep wire mesh fence, sheep fence, stock fencing, stock fence
hot dip galvanized.
Hot dip galvanized hinge knot field fence
Field fence, also called cattle fence or grassland fence. Steel wire with high strength, with zinc coating layer or without. Graduated steel wire mesh knotted field fence is suitable for borders in fields and grassland for breeding of deer, cattle and other animals
Field fence is made of galvanized wire, Outer and inner wire diameter is different, and outside wire with high t/s. This knot acts as a hinge that gives under pressure, then springs back into shape. This provides easy installation because the hinge "gives" while retaining full height for continuing protection and good looks. Vertical wires are individually cut and wrapped for maximum strength and flexibility.
Ring lock is composed of rectangles, and where the horizontal wire meets the verticals a small 'ring' of wire is added to stabilize the weave. Under extreme pressure, these rings slide along, and can tighten.
Ring Lock Fencing Is A Dangerous Sort Fence?
Any fence can cause injuries, particularly if they are not erected or maintained properly.
You better make double sure you clip the catches inward because if they are facing out and the sheep rubs on the fence it can clip itself to the wire. Always keep the clips facing inward and no injury happen.
There is an alternative fencing - Hinged Joint Fencing.
Hinged joint fencing can stand 30 years for keeping sheep and goats, horses and dogs. If a sheep puts it's foot through the fence, and you need do just is pulling it back with no more injury than plain wire fence.
Fixed Knot Fencing for sheep and goat has firm structure, flat surface, uniform opening, good flexibility and long service life. It also is a good choice to protect your animals.
Sizes: Made from high tensile heavily 8 gauge and 10 gauge galvanized wire (3.2mm, 4mm wire), fencing height is from 60cm to 200cm. Other sizes can be available according your request.
Note: Sheep and goat fencing has smaller Holes at the bottom and bigger holes higher up, so this fence can stop lambs getting through and big sheep from getting their heads trapped.
Fence accessories install needed such as Staples, Strainers, And Galvanized Postsare also offered by us.
Number
Number of
line wires
Height of fence
Space between
vertical wires
Wire gauge
(top and bottom wires)
Roll size
1
13
48 inch
3 inch
12-1/2
48 inch high×200 ft. long
2
13
48 inch
6 inch
12-1/2
48 inch high×300 ft. long
3
9
49 inch
6 inch
12-1/2
49 inchhigh×330 ft. long
4
9
49 inch
12 inch
12-1/2
49 inchhigh×330 ft. long
5
10
60 inch
6 inch
12-1/2
60 inch high×330 ft. long
6
15
61 inch
3 inch
12-1/2
61 inch high×200 ft. long
7
15
61 inch
6 inch
12-1/2
61 inchhigh×330 ft. long
8
17
75 inch
6 inch
12-1/2
75 inch high×330 ft.long
9
14
78 inch
6 inch
14
78 inch high×330 ft. long
10
16
90 inch
6 inch
14
90 inch high×330 ft. long
11
20
96 inch
3 inch
12-1/2
96 inch high×165 ft. long
12
20
96 inch
6 inch
12-1/2
96 inch high×330 ft. long
13
20
96 inch
12 inch
12-1/2
96 inch high×330 ft. long
FIX KNOT DEER FENCE/ FIX KNOT SHEEP WIRE MESH FENCE/ FIELD FENCE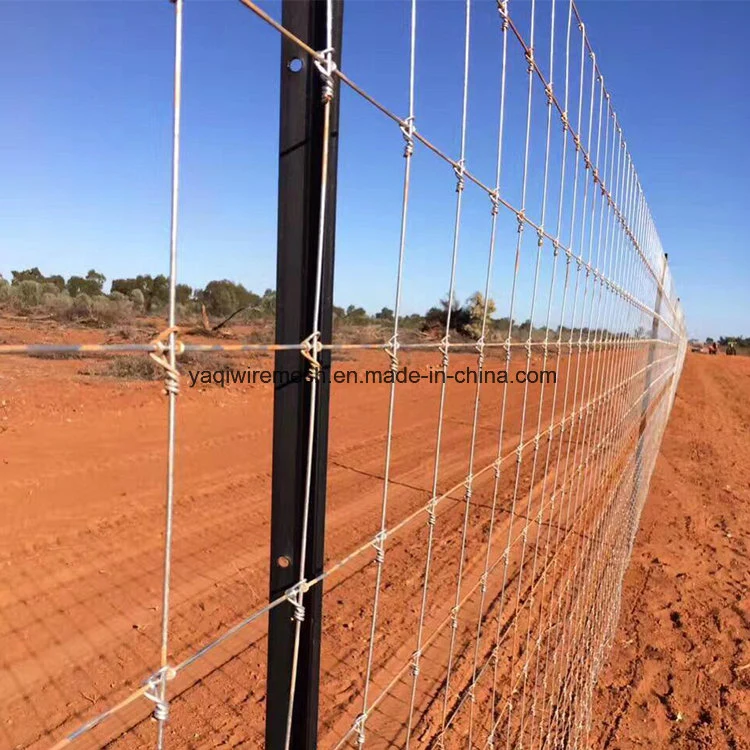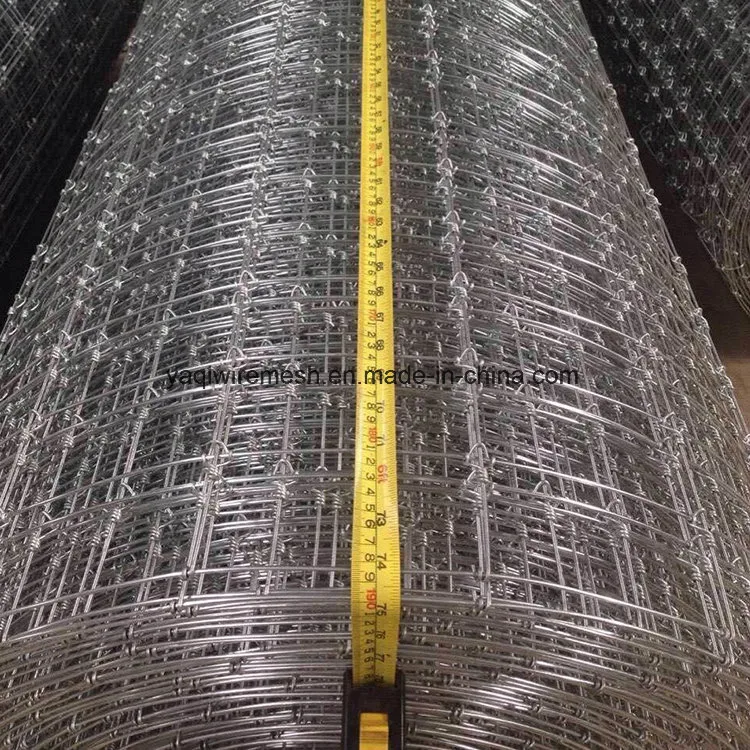 HINGE JOINT FIELD FENCE